Culture
The Cannabis Lover's Guide to an Elevated Valentine's Day
Valentine's Day is fast approaching — are you ready? Follow this guide to plan a romantic 420 friendly experience that will sweep your date off their feet.
Valentine's Day is almost here! How do you celebrate if your date loves weed as much as they love romance? This guide will help you plan the perfect Valentine's Day to spoil your special smoking partner.

Gift Ideas
The Perfect Strains
Set the mood by giving your partner a sexy or romantic cannabis strain. Try smoking some Love Potion #1, Berry White, or Dream Queen and see what happens. These strains are considered to be aphrodisiacs, meaning they'll leave you feeling sensual and aroused after your smoke sesh.
If that's not your thing, strains with romantic names like Champagne Kush or Wedding Cake make cute gifts too.
Weed-Infused Wine
Sharing a bottle of wine with your lover is an incredibly romantic gift; but what if you aren't a big fan of alcohol? Now, with weed-infused wine, you can share this loving gesture and get buzzed on THC instead of booze. While most cannabis wines are pretty weak (around 5 mg per glass), it's the thought that counts.
Enhanced Chocolate Box
A box of chocolates is a classic gift that goes hand in hand with Valentine's Day. This year, surprise the special stoner in your life by replacing the chocolates with dank buds.
Cannabis Lube
Lube infused with THC is the sexiest gift any cannabis lover could ask for. This lube by Foria is designed to heighten arousal and pleasure while diminishing any pain or discomfort.
A Meal Cooked With Love (And THC)
A romantic homemade dinner is one of the most intimate ways to show your special someone that you care. This Valentine's Day, pick a recipe out of High Times Cannabis Cookbook and make a deliciously elevated dish.
Date Ideas
Romantic Picnic
Hike out into the forest or onto the beach with a picnic basket packed full of munchies, weed, and wine — I can't think of a better Valentine's Day than that! Getting high and enjoying each other's company out in nature is the ultimate stoner date.
Puff Pass And Paint Art Class
A 420-friendly painting class is the perfect date night for artistic couples. If you love cannabis as much as being creative, you'll enjoy these instructor-led classes, where smoking or having edibles is encouraged. Puff Pass And Paint classes are hosted in various cities across the United States.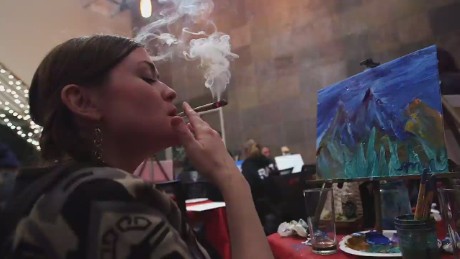 Baking While Baked
Working together in the kitchen is a fun, romantic activity that's guaranteed to end with some yummy results.
Not only is cooking together enjoyable, but it's also a great way to improve on your teamwork and hone your culinary skills. Light up a joint and don't be afraid to get your hands messy as you explore a whole world of flavors.
Romantic Getaways
Bud And Breakfast
If you aren't restricted by time or money, whisking your honey away for a romantic vacation is the most luxurious way to spoil them this Valentine's Day. Make sure you get cannabis friendly lodging so that you can smoke all you want without having to worry about hiding the smell later. Look for lodging on Bud And Breakfast or explore the cannabis policies of hotels and resorts.

Regardless of how or where you spend the holiday, the most important thing is that you spend it with the one you love most. Whether that's you and your lover, or just you and Mary Jane — Happy Valentine's Day from Dank!